Photo gallery: Artist Richard Hay Reagan (1929-2012) revisited Mexico in 1970
Return to the U.S.The following year, Rick decided to return to North America. With financial help from brother Pete, he flew back to California. Jeanora took several of Rick's large paintings and returned to France, planning to sell them in Paris to raise her own plane fare back. En route, she raised some funds by picking grapes. In Paris, she received some welcome financial support and encouragement from Rick. Just as Jeanora's limited funds were running out, a fortuitous meeting led to an art dealer buying several pieces, giving Jeanora the means to rejoin Rick on the other side of the Atlantic.
Jeanora's return was not plain sailing. Arriving in New York, the immigration official refused her entry and insisted she continue on to Canada, where she had permanent resident status from living in Montreal more than a decade earlier. She then bused her way across Canada and re-entered the U.S. via Blaine, Washington, this time without a hitch, on her way to join Rick in Los Angeles.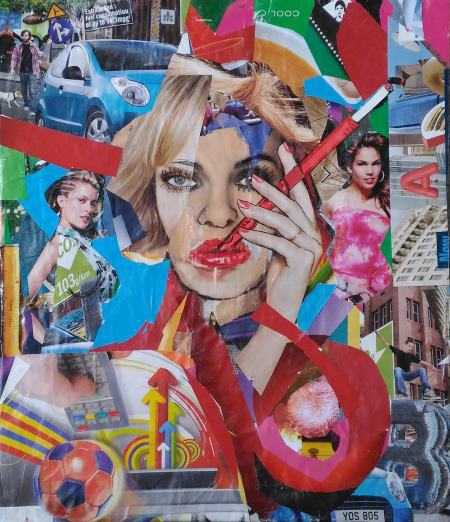 They remained for several years in Los Angeles, surviving on occasional jobs while Rick continued to paint whenever he could. His single recorded U.S. show coincides with this period — an exhibit of his "non-objective" oils was held at the Downey Museum of Art in October, 1965.
Rick's jobs to pay the rent and put food on the table involved digging ditches or holding the end of a survey chain — he was always content to be the "lowest man on the totem pole." Jeanora, meanwhile, found employment as a waitress at the racetracks at Santa Anita and Inglewood. She laughs as she recalls that these jobs required her to become a union member.
Mexico once more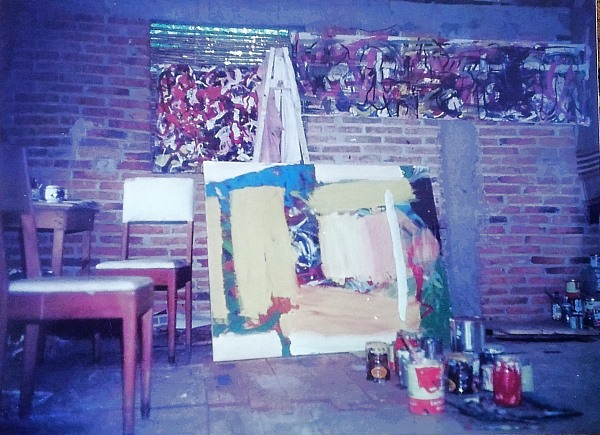 In about 1970, Jeanora Bartlet received an invitation from Anne McKeever to move back to Mexico and teach English at the language school McKeever and her husband, Humberto Javier Camacho, a former bullfighter, had started in Tapachula, Chiapas, close to the Guatemalan border. Jeanora and Rick lived in Chiapas for about fourteen years.
The teaching gig was not well-paid, and not a permanent position, so it was a continuous struggle to make ends meet. The school did, however, afford a regular display space for Rick's artwork leading to some local sales.
For much of the time, they lived in three thatched huts they built, to serve as both home and studio, on the beach at Puerto Madero [8], some thirty kilometers from the school in Tapachula. Once a week, Jeanora would walk along the beach to catch the local bus up to the city to teach, returning three days later carrying the week's provisions. Rick's main problem was finding sufficient photographs and illustrations to cannibalize for his collages; the occasional New Yorker was especially prized. It was while living on the beach that the couple introduced locals to the sport of "saucerbol" (a Frisbee-like flying disc).
Later, they helped build a hut on a coffee finca near the Talisman border crossing to live in. Faded photos of the hut show two marimbas standing in the corner, including one made specially for them.
In the early 1970s, with the support of Dr. Alfonso Díaz Bullard, the then presidente municipal (mayor) of Tapachula [9], Rick held a show of his artwork in connection with the city's annual International Fair (Feria Internacional). [10] The exhibit, featuring a lengthy series of figures on a long roll of paper, took Rick many weeks to make.
When Jeanora returned to the U.K. in 1984 for medical reasons, many of Rick's remaining artworks were transported back to the U.S. by Allison Berry, who was visiting from California. Allison later also took some of Rick's U.K. paintings back to the U.S. &mdash the current whereabouts of these works is unknown. Allison was working at the time with Paul Reubens, the actor, comedian and writer, born in 1952, best known for his creation and portrayal of the fictional character, Pee Wee Herman.
U.K.: His final years
Jeanora's brother helped the couple fly to the U.K. (October 1984) for Jeanora to seek treatment and be closer to her immediate family. Jeanora's treatment was successful. Rick subsequently applied for, and was granted (1986), permanent residency status in the U.K. The couple lived in a little thatched cottage for about 20 years.
Rick's links to the U.K. went back several generations. His maternal grandparents had returned from their overseas work to the U.K. in about 1900. His grandfather died in Hove, Sussex, in 1943, and his grandmother in Wood Green, Middlesex, in 1952.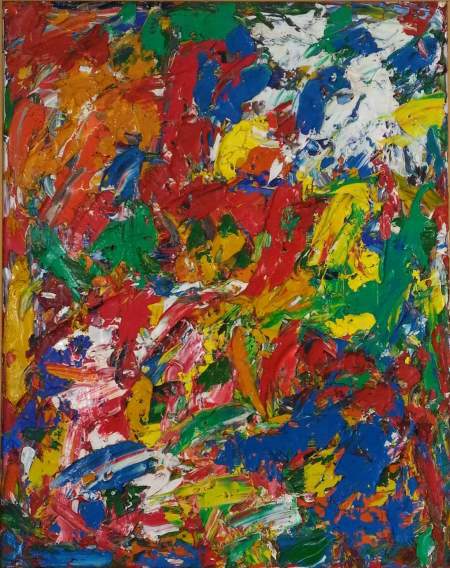 When Rick reached retirement age, he applied for U.S. Social Security but withdrew his application when the response requested precise dates and details which he couldn't remember. The final paragraph of a draft of his letter of withdrawal reads:
"I am an artist. I abhor filling out forms and writing letters. Any jobs I held since I was 13 were just a means to an end, not career moves, and best forgotten. I have other things on my mind and this whole process, which I assumed would be cut and dried, is really bugging me and putting a hitch in my swing. For that reason I would like to withdraw my claim and pursue it at some later date, Sincerely, Richard Reagan."
Fortuitously, following the death of a relative, Rick received an inheritance of about GBP 30,000, which at least kept him well supplied with art materials and acrylics.
Throughout their life together, Rick and Jeanora lived hand to mouth — subsistence artists, if you will — proud to leave only the smallest of ecological footprints on the planet, with Bartlet always hoping that Rick's work would someday find them an appreciative sponsor. Sadly, that never happened.
When Rick passed away on June 4, 2012, Jeanora was left with the unenviable task of looking after much of his lifetime's work — several thousand collages and other works of art. He left a massive body of work, which had never been catalogued, and which, indeed, will prove difficult to catalogue, given that much of the work is undated, untitled and unsigned.
Richard Reagan undoubtedly had artistic talent, but despite his creativity and enviable work ethic, he always lived in the moment and never planned ahead. This makes it all the more important that this quietly-spoken "true artist", one who was never willing to compromise his artistic integrity, is not forgotten.
Examples of Rick's artworks are currently on sale in "Alchemy" [11], a store in Bruton, Somerset, where Jeanora Bartlet is now living. Jeanora hopes to arrange a more formal showing of Rick's work at some point in the future. She is actively seeking an individual or institution that is willing to offer his artwork a good home, as a permanent legacy of this dedicated and extraordinary artist.
Notes
[8] Puerto Madero, also known as Puerto Chiapas, is now a large port with a cruise ship terminal, fishing wharves and industrial installations. The first attempt to build the port, in the 1970s, changed the area's morphology and led to the flooding of several nearby huts, including that inhabited by Rick and Jeanora. [9] The Tapachula presidente municipal (mayor), 1971-73, was Dr. Alfonso Díaz Bullard, a medical doctor, politician and author of two novels: 
La Choca,
 and 
El Costeño.
La Choca
 was made into a movie by Emilio "El Indio" Fernández. [10] Feria Internacional de Tapachula – https://www.feriatapachula.com/ [11] "Alchemy," West End, Cole Rd, Bruton BA10 0BQ, Somerset, U.K. Tel: +44 (1749) 813770 – Website: 
https://www.alchemybruton.com
/ E-mail:
[email protected]
Acknowledgements
Sincere thanks to Jeanora Bartlet for sharing memories of her late partner, Rick Reagan, and for graciously allowing me access to Rick's artwork and personal papers. Thanks, too, to Rick's cousin, Muldoon Elder, for sharing his memories of Rick's immediate family, and to Andrew and Dana Pennock for their wonderful hospitality during my visit to Bruton.
Sources
The Cincinnati Enquirer, Sunday, September 17, 1972, p 23
Chula Vista Star News, Thursday, November 2, 1972, p 48:
Peterson, Bill; Charlie Maher; et al. 1952. Fortieth in Review. (40th Infantry Division, United States Army). Tokyo, Japan: Dainippon Printing Co. for the 40th Division Public Information Office.
Published or Updated on: September 2, 2017