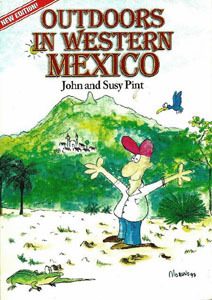 Outdoors in Western Mexico
By John and Suzy Pint
Quadrimag S.A. de C.V., 2011
Outdoor enthusiasts in western Mexico will love the new edition of Outdoors in Western Mexico, by John and Suzy Pint.
For decades now, the Pints — who live in Zapopan, Jalisco — have wandered off-the-beaten paths in search of the beautiful and the mysterious and the interesting. And in this book they have gathered articles they have written about rivers and canyons, caves, volcanoes (both active and inactive), hot (and cold) springs, waterfalls, petroglyphs, pre-Columbian tombs, circular pyramids, boiling mud pots, even poltergeists, and exotic flora and fauna… all within a few hours of Guadalajara.
They discovered birds like the acorn woodpecker, the mountain trogon, and the groove-billed Ani, and trees like the fragrant frangipani and the graceful lyre tree, a tall tree actually shaped like a lyre, near the eleven magnificent waterfalls of Quila. Exploring the lush La Toma Valley, they dipped in the cool waters of Balneario El Paraiso, and showered "under the deliciously warm waterfall at Balneario La Toma…." They visited "the golden lake of Santa María de Oro"… which fills the deep crater of an "enormous extinct volcano," and "Who hasn't dreamt of spending a few days on a totally deserted, clean, sandy beach? To make the dream even more appealing, let's add a flat, shady, grassy spot to pitch a tent, exotic jungle to explore, plenty of firewood and a road connecting this paradise to a driveable highway." Enough, you say? "On top of that, we saw dolphins leaping and frolicking in the sparkling water!"
The first edition of Outdoors in Western Mexico appeared in 1998. "Some years later… we received an email message from Pedro Fernández Somellera saying he loved our book, but lamenting the fact that he, a Mexican, was forced to learn about marvelous places 'right in front of my nose' from a book in English. The result was Al Aire Libre en Las Cercanías de Guadalajara, a Spanish version of our book with numerous corrections and updates, published in 2007."
Now John and Suzy Pint have incorporated "all the changes in the Spanish version plus many others. In addition, whenever possible, we now give GPS coordinates to sites, using the UTM system, which corresponds to the numbers of the edges of topo maps…."
In addition to the detailed descriptions and directions for "40 scenic places to camp, hike or picnic within a few hours of Guadalajara," there are informative sidebars on such things as "Finding your way with mexnet," which tells us that "The highway and street maps made by Guía Roji available at Sandi bookstore in Guadalajara… are about the best you can find, but that doesn't mean they are reliable. Never bet that what you see on the map is also outside your window!"
And, for those difficult urban destinations, "As for city maps, none I know of indicate one-way streets, rendering them nearly useless in many occasions. To make things even more interesting, the signs which are supposed to guide you through such places and back to the main highway, usually evaporate just as soon as you've become nicely disoriented.
"So what do you do now? Time to plug into Mexnet, the instant information retrieval system invented long before the computer. To get on line, all you do is roll down your window and shout 'Buenos días' or 'Buenas tardes.' Once you have established contact, here are the main commands you need for a successful info search:
¿Disculpe, cómo se va a ____? (Excuse me, how do you get to ____?)
¿Cuánto tiempo se hace? (How long does it take to get there?)
¿Cuántos kilómetros hay? (How many kilometers is it?)"
This pleasurably personal but also highly detailed guide is the perfect book for the outdoor adventurer in western Mexico. Each of the 40 trips is organized something like this. The opening paragraph or two is a "teaser" about the location. For example, Chapter 18: La Atarjea Tapada/Sheltered Spring, opens like this: "At the base of a sheer cliff, in the mountains just west of Guadalajara, inside a small shelter cave barely large enough for two people to stand up in there lies a hidden jewel of a spring known locally as 'La Atarjea Tapada.' The pure, cool, utterly delicious water drizzles from the cave roof like dozens of shimmering icicles, creating the most exquisite shower a hot, dusty hiker could ever desire."
Subsequent paragraphs tell about how they discovered La Atarjea Tapada, what they found there (including "bits of obsidian, and all the pumice rocks one could ever want"), and concluding with "How to get there," which not only gives detailed directions, but also rates the difficulties. For example in this chapter, La Atarjea Tapada, you are first told how to follow highway 15 west to Pilar, and then after other careful instructions you "Turn right and immediately right again and go down a steep hill till you come to a beat-up old street sign. You can actually traverse the entire length of this little lane quicker than you can say its name: Retorno del Paseo de la Casuarina!" And each "How to get there" gives approximate driving times, in this case, "Driving time from the Guadalajara Periférico to the Pinar de la Venta parking spot: about thirty minutes."
Incidentally, the authors "occasionally organize small-group tours to some of the places described in this book." (You can contact them at (52) 333 151-1612 or Ran[email protected], or through their website: www.RanchoPint.com.
Published or Updated on: January 28, 2012