Available from Amazon Books: Paperback
MexConnect is reader-supported. Purchases made via links on our site may, at no cost to you, earn us an affiliate commission.
Learn more.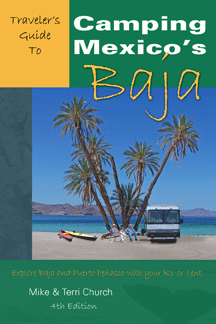 A while ago, I reviewed for MexConnect another useful book by Mike & Terri Church: Traveler's Guide to Mexican Camping, 3rd Edition. LINK That book — in 512 packed pages — covers all of Mexico, and even Belize. Eighty pages are devoted to the Baja. A few months before that, I reviewed another book about the Baja, a book that belongs on the coffee table (or in the motorhome) of every Baja aficionado: Oasis of Stone: Visions of California Sur, link a collaboration between photographer Miguel Angel de la Cueva and poet and essayist Bruce Berger.
Those eighty pages of information on camping in the Baja in the Traveler's Guide to Mexican Camping, 3rd Edition have been expanded to 253 pages in Traveler's Guide to Camping Mexico's Baja, 4th Edition.
Why a separate and expanded guide? For Mike & Terry Church, "The Baja is one of our favorite camping destinations, we enjoy it more each time we visit. The peninsula is a Mexican jewel that is easily enjoyed by anyone with an RV or a tent and a sense of adventure." The guide also includes two popular destinations in northwest Sonora — Puerto Peñasco and Golfo de Santa Clara — because they "offer many of the same attractions to RVers that the Baja does."
Chapter 1, Why Camp the Baja Peninsula?
Yes… why? Beaches, golf, fishing, fine winter weather, proximity to the U.S., Mexican culture, Mexican people. And this chapter even provides "A Possible Itinerary," which can be done in a minimum of seventeen days, but "that's the bare minimum, better would be a month." The authors like to take their time, and so following their itinerary on some days, like the first — Tijuana to Ensenada, you drive very little…67 miles in this case. Even the longer driving days rarely exceed 200 miles.
Chapter 2, Details, Details, Details
This useful chapter tells you all about driving RVs in Mexico and introduces you to the authors' system of grading the roads — "the classifications are based upon the type of rig that is suitable." You discover that Mexico uses the same 110-volt service that is used in the U.S. and Canada, although the "condition of the outlets, faucets, and sewer connections may not be of the same quality that you are accustomed to in the U.S."
You will also learn about "escorted caravans" that "Many people love… because someone else does all the planning, there is security in numbers, and a good caravan can be a very memorable experience. Others hate caravans, and do so for just about the same reasons."
You will also learn about the border crossings, what you can bring in to Mexico, what you can carry back to the U.S. (only avocados that have had their seeds removed, for example), what insurance you need and how to get it, what to do about drinking water and how to fuel up. You will also be warned not to drive at night, what to do when your vehicle breaks down or when you are stopped by a cop. But, the authors assure us, "First-time camping visitors are almost always amazed at how trouble-free Mexican camping is."
Chapter 3, How to Use the Destination Chapters
This chapter is actually itself a guide to the very detailed "destination chapters." Here you learn how to read the maps that will follow, and the various icons regarding running water, hot showers, internet (including Wi-Fi), dogs or no dogs, credit cards accepted and even GPS coordinates for each campground (although "you certainly don't need to go out and buy one [GPS receiver] to use this book").
The Region Chapters
Chapters 4 through12 are highly detailed chapters — the heart of the book. They are arranged by regions.
Then they are further organized. For example, Chapter 10, Los Cabos is broken down into "Highlights," "Roads and Fuel Availability," "Sightseeing," "Golf," "Beaches and Water Sports,"("The Playa Costa Azul is a long beautiful beach stretching from the lagoon at San José del del Cabo westward for several miles."), "Fishing" ("Fishing for large game fish is the thing to do in Los Cabos.") and "Backroad Adventures," followed by detailed information on the towns and campgrounds themselves.
What is a listing like? Here's an example. "The Vagabundos park probably has the nicest facilities in Cabo. However it has no view and is not on the beach. It is more convenient to town than most other parks." Furthermore, "There are 85 spaces with 15 or 30-amp outlets, sewer, water, and patios. Many are filled with permanently-located RVs, mostly in the sites along the outside of the park. The roads are paved and the parking spaces are gravel. The restrooms are clean and modern and have hot water showers. There's a heated swimming pool with a palapa bar and restaurant, a laundry, vehicle washing facilities, a computer for internet access, and free Wi-Fi…. The monthly rate here is $480."
And, as is so necessary in any travel guide that is worth the extra weight, there is a comprehensive index. There is also a useful appendix of Baja road signs, signs that you see all over Mexico actually. Some of those are:
DESVIACION A 500 MTS — Detour in 500 Meters
DISMINUYA SU VELOCIDAD CURVA PELIGROSA — Reduce Your Speed Dangerous Curve
CONCEDA CAMBIO DE LUCES — Dim Your Lights For Oncoming Traffic
NO REBASE CON RAYA CONTINUA — No Passing When Continuous Line
TRANSITO LENTO CARRIL DERECHO — Slow Traffic Right Lane
CAMINO SINUOSO PROXIMOS 38 km — Winding Road Next 38 Kilometers
Useful information? You bet!
Incidentally, because of the mild weather, winter is the most popular time for U.S. and Canadian campers to head south. After reading Traveler's Guide to Camping Mexico's Baja by Mike & Terri Church, you will give this book a priority place on the console between those two luxurious front seats of that luxury motorhome as you head south to sun and fun on Mexico's Baja peninsula.
Published or Updated on: January 11, 2010