Mariachi Vargas de Tecalitlan celebrates its 100th anniversary in 1998.
"[Mariachi] Vargas was one of the first organized groups to go to Mexico City and become popular. But that was just one style of music. During the thirties and forties, the record industry sort of standardized mariachi music. In a way that was good, and in a way that was bad."
Every Friday night around six in the evening at Cielito Lindo in South El Monte, California, a large crowd begins to gather. The same thing occurs 1,400 miles away, at El Jalisco Bar in Austin, Texas. What brings crowds to these and hundreds of other restaurants like them across the country? Some say it's the latest margarita happy hour or the growing popularity of Mexican food that packs them in. But a survey of customers reveals that it's the appearance of local Mexican music sensations and an appreciation of the sounds of four or more violins, at least two guitars, a deep-voiced guitarron, a vihuela, and, yes, trumpets. Mariachi music is the sound that speaks to your emotions, says Sylvia Gonzalez, author of Mexico, The Meeting of Two Cultures (New York: Higgins and Associates, 1991). "It is vivid colors, brilliant, crisp, deep, and sweet melodies [that] combine to reveal the heart and soul of Mexico."
Mariachi music is all this and more. The centuries-old musical form has seen a renaissance throughout the nineties. After reaching great popularity after the turn of the century and being kept alive through movies in the fifties, mariachi music seemed to suffer a lull during the sixties and seventies. By the eighties, the music was becoming more popular among Mexican Americans, and "renaissance" is the word that best describes its appeal in the nineties. "The music has become a very popular culturally defined expression throughout the southwestern United States and urban centers with significant Mexicano populations," Gonzalez writes. It is a marker of cultural pride for Mexicanos and people of Mexican descent, a connection to homeland, to stories and traditions shared at every celebration, from family gatherings, religious ceremonies, to Little League games, public fiestas, and restaurants.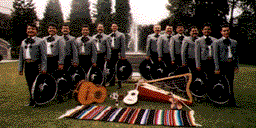 According to fifth-generation mariachi performer José Hernández, founder of the Los Angeles-based Mariachi Sol de México, the recent rebirth of mariachi may have come from the success of crossover artists who have used mariachi music to woo mainstream as well as Mexican American audiences. "A lot of the music's new popularity might have to do with the success of singers like Vikki Carr and Linda Ronstadt. Both mainstream and Mexican American audiences have been exposed to mariachi through their music," says Hernández. "I think that Mexican Americans wanted to get in touch with their roots, and mariachi music was the way to do it. It's been really good for the music."
The early mariachis played a genre called son, the popular music of the day. It was a mixture of folk traditions from Spain, Mexico, and Africa. "La Negra" is the best known son from Jalisco, described also as son jalisciense. Mariachi music might have remained an obscure regional form of music similar to other Mexican indigenous folk traditions like the sones jarochos of Veracruz, had it not been for influential musicians and political events that transformed the musical tradition into Mexico's national treasure.
"It is important to remember that from the very start, mariachi music was music to be danced to and not just music to be played and sung," Gonzalez says. Traditional regional dances such as the zapateado, the huapango, and the famous " Jarabe Tapatío" ("Mexican Hat Dance") have traditionally connected the music with dance. Early photographs of mariachi groups show musicians in peasant garb, often wearing homespun white cotton pants and huaraches (handwoven sandals). Following other peasant traditions, mariachi musicians learned their craft from their elders. Few early mariachis were classically trained.
"It is a marker of cultural pride for Mexicanos and people of Mexican descent, a connection to homeland, to stories and traditions shared at every celebration, from family gatherings, religious ceremonies, to Little League games, public fiestas, and restaurants."
Another of mariachi's trademarks is its costuming. Gonzalez says that the popular "Jarabe Tapatio" of the thirties popularized el traje de charro used by almost all mariachis today. The traje consists of a waist-length jacket and tightly fitted pants open slightly at the ankle to fit over boots. Both pants and jacket are decorated with intricate metal ornaments and embroidered designs. The traje was an item of clothing worn in the nineteenth century by wealthy landowners.
Most experts agree that the most influential group in the music's history is Mariachi Vargas de Tecalitlán, and this year marks the 100th anniversary of the legendary performers. According to several sources, the group's founder, Gaspar Vargas, moved his troubadours from the Jalisco region of the country to Mexico City in 1898. Because Mexico City represents the cultural as well as the political capital of the country, the Jalisco form of music, which included guitars and native harps, soon made its mark on a young nation still struggling to carve out a national identity.
By 1932, Silvestre Vargas, son of Gaspar Vargas, took over leadership of the group. Silvestre hired professionally trained musician Rubén Fuentes as the group's music director. Fuentes, who remained actively involved in Mariachi Vargas for more than fifty years, is acclaimed as one of the "towering figures" in the development of mariachi. Together with Silvestre, he standardized the arrangements of many of the traditional sones, composed many exceptional new huapangos, and wrote for such famed songwriters and singers of his generation as Pedro Infante and Miguel Aceves Mejía.
By the fifties, Fuentes and Silvestre insisted that all their musicians read music. To the traditional stringed instruments of the first peasant mariachi groups, they added two trumpets, a classical guitar, and more violins. Mariachi Vargas became a complete, adaptable orchestra with the ability to retain its traditional base while also assimilating new musical ideas and styles. (The trumpet was actually added in the thirties, when Jesús Salazar of Mariachi Tapatío made the first recordings that included a trumpet.) The so-called época de oro (golden age) of the musical form came simply because the genre lent itself so well to the spirit of the Mexican Revolution (1910-1929), which gave us such mariachi classics as "La Cucaracha," "Las Adelitas," and many others. Musical recordings and record sales from the twenties through the thirties along with the development of radio and film made the music more popular than ever.
"[Mariachi] Vargas was one of the first organized groups to go to Mexico City and become popular. But that was just one style of music. During the thirties and forties, the record industry sort of standardized mariachi music. In a way that was good, and in a way that was bad," says Mariachi Sol's Hernández. "As far as popularity, it was great. But for a traditionalist, it was bad. A lot of the regional and also traditional sounds of mariachi music started to disappear, and groups began imitating what was popular on the radio."
Following the Mexican Revolution, an elite corps of artists emerged that influenced the music into its modern form, which includes violins and trumpets. A corps of great performers and composers, commonly known as Los Grandes de México – José Alfredo Jiménez, Lola Beltrán, Lucha Villa, Jorge Negrete, and Pedro Infante – raised the music to such heights that no other musical form is considered more completely Mexican.
Jiménez was a prolific songwriter, beloved by the Mexican people. His songs continue to be favored by performers. Current mariachi superstar Vicente Fernandez still sings many of Jiménez's classics, including "El Rey."
Lola Beltrán and Lucha Villa were the first female superstars in this traditional male domain. Beltrán was thrown into the national limelight as a teenager when Mariachi Vargas de Tecalitlán boldly put her on stage. Commonly known as "Lola la Grande" and "La Reina," Beltrán sang versions of "Cucurrucucu Paloma" and "Tres Dias", that are widely hailed as classics. Another song, "Soy Infeliz" ("I Am Unhappy") opened a 1988 film by Spanish director Pedro Almodovar, Women on the Verge of a Nervous Breakdown.
Negrete was a great radio star, and Infante brought the music to the big screen during Mexico's epoca de oro of film. Both men became international mariachi sensations. One of the current living legends of mariachi is Aceves Mejia, now in his eighties. "Before the [Mexican] Revolution, the songs written for mariachi talked mostly about nature and the animals," Hernández says. "The Revolution gave new composers something to write about. Especially for la música del norte (northern Mexican music), the Revolution and the music went hand in hand. Pancho Villa even had his own band travel with him. But in Jalisco and southern Mexico, the music kept to its roots."
One of the biggest myths about mariachi music concerns the word itself – "mariachi." "Musicologists and folklorists have argued for years over the origin of the word," writes Gonzalez. It was commonly believed that the word dated from the French occupation of Mexico (1862-1866). Supposedly the French enjoyed this native form of music and had it performed often at weddings – thus the word was rumored to be a mispronunciation of the French word "mariage."
In the liner notes of Mariachi Vargas de Tecalitlán: Their First Recordings 1937-1947 (Arhoolie Folklyric, 1992), Jonathan Clark writes that the myth was recently discredited by the discovery of a letter dated 1852 – before the French presence in Mexico – written by a Catholic priest, Father Cosme Santa Anna. The letter referred to the native musical form and actually used the word "mariachi."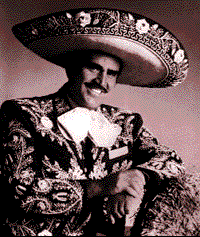 Currently, the scholarly opinion contends that the word has native roots, taken from a now dead native language, one of the many pre-Columbian Mexican Indian tribes, probably from Jalisco. "Some historians believe the word may have come from the Cora Indian dialect from southern Mexico," explains Hernández. The dialect is distinct in that most of the words of the dialect end in the "che" sounding "chi." "They [the Cora Indians] have the word 'ma'ria'chi,' which means [a certain] 'tree.' There's a belief that the first instruments of the mariachis where made from the wood of that tree," says Hernández. "Ever since the beginning – many historians think – when the Spaniards were converting the Indians, they first did it through music. So they believe that religious expression and mariachi music coproduced itself since the very beginning."
Another theory regarding the word's origin is that because religion was such an important part of Indian life, the word "mariachi" was actually developed from indio musical homages to the Virgin Mary – or "Maria" in Spanish – and adding the Cora Indian "chi" sound, thus coining "Mariachi" with a capital M. "It's a beautiful and interesting theory," Hernández indicates, "but there's really no way of proving it."
Where has mariachi come to in the nineties? Besides the nostalgia craze that has strains of mariachi trumpets recorded on popular hits, many Hispanic artists are reprising the sounds. Hernández's Mariachi Sol de México is scheduled to release its fourth CD on the EMI Latin label, Amigos, this month. Among the guest artists on the new work are Emilio Navaira (whose rendering is "mariachi but it's a little Tex-Mex," Hernández explains), Paloma San Basillo ("The Liza Minelli of Spain and Latin America"), and the Beach Boys ("They called us, we didn't call them. They harmonize in Spanish. You get that whole Beach Boy sound in mariachi").
"I think we've been criticized by a lot of traditionalists, but we don't criticize any kind of music," he explains. "The mariachi sound in the nineties is extremely different, with popular, classical, and pop ballads. This kind of music is now a minor orchestra." Mariachi Sol de México's Homenaje a Mariachi (1993, EMI Latin) provides a musical tour of mariachi music, including a fifteen-minute narrative on the genre's history.
"When I was younger, I was told that the only way to get famous as a mariachi was to join [Mariachi] Vargas. My goal … was to have a mariachi group as famous as Vargas," says Hernández, whose four older brothers played with Mariachi Vargas. Today his organization, Mariachi Sol de México, which formed in 1981, is internationally famous and often performs in Mexico. "We're the first group that mariachis in Mexico have taken seriously. It was incredible to find other mariachis keeping in touch with our music."
In Los Angeles, Hernández helps organize and raise funds for the Mariachi Heritage Society, a nonprofit group that teaches mariachi music to youth. Nearly 700 youth are involved in the program, which has already produced one mariachi prodigy – seventeen-year-old Nydia Rojas. More than anything else, the program underscores mariachi's long-standing connection to the community. "The program has been really successful. It's been good for the community," Hernández says. "It's one of the projects we're really proud of."
This article appears with the kind permission of Hispanic Magazine, November 1997
Published or Updated on: November 1, 1997