Tears from the Crown of Thorns: The Easter Passion Play in San Miguel de Allende
A Mexico book by Charlotte Bell
Almost every community of any consequence in Mexico has an annual day or week set aside when a saint or revered person is honored with some type of celebration. If, for example, a town's name honors San Patricio or San José or San Francisco, then on those Saint's Days there will usually be fireworks, parades, processions, religious rites, costumes and closures of official offices. The calendar shows hundreds of such events in the course of a year.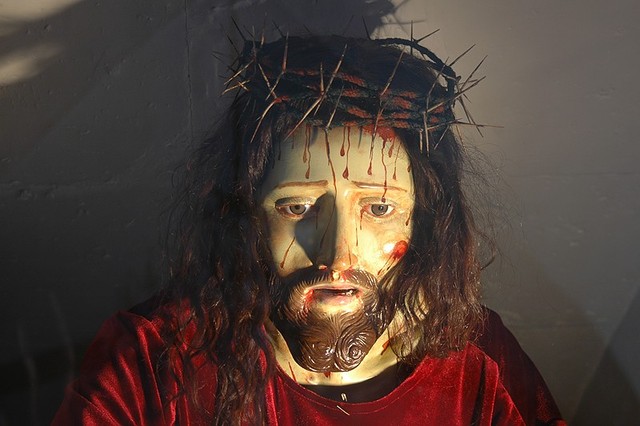 "I see the figures of Jesus or Mary with hearts exposed or pierced by a sword as reminders of the pain they endured. It is the job of these religious statues to remind us, to help us experience those feelings we try so hard to forget: for it is through these feelings that we can open to compassion."
Holy Week ( Semana Santa) is of course celebrated universally across the country in myriad ways. However, there's fairly general agreement that in no community do those celebrations quite equal those of the 400-year-old town of San Miguel de Allende in north central Mexico. People from all over North America make their way there during Holy Week to join in the celebrations.
Charlotte Bell is a professional photographer who divides her time between Austin, Texas, and San Miguel de Allende. She has been visiting and handling assignments in Mexico for many years. Over the past six years, she has also been taking hundreds of photographs related to all aspects of Holy Week. Many of these have found their way into a book – Tears from the Crown of Thorns. This is a generous collection of 232 of Ms. Bell's photos. We at Mexico Connect are delighted to offer a small sampling from this most impressive work.
In addition to the photographs, she has done extensive interviews with many San Miguel citizens. Her curiosity and her in-depth research into the origins and background and preparations surrounding these annual celebrations have made her extremely knowledgeable about the entire event. Also, because of her interest she has been able to establish close contact with several of the key planners and designers ( los santeros) of the Holy Week festivities. All of this research and intimate contact is reflected in the text of Tears from the Crown of Thorns, in both English and Spanish.
Genuine and profound religious feeling is reflected in the many images of citizens either participating in the parades that take place as well as in the faces in the crowds that line the streets. In several cases citizens have allowed the Ms. Bell into their homes to photograph their own personal shrines, revealing the depth of feeling that exists there.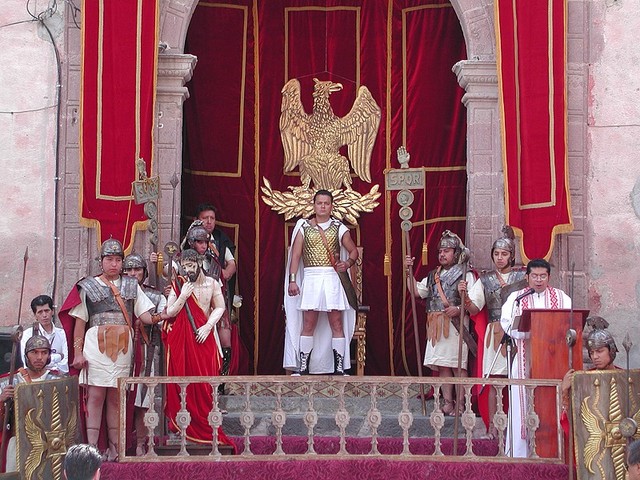 As these photos show, boundless energy and creativity and sincere religious fervor are part and parcel of San Miguel's celebrations. One can well understand why the town becomes a prime destination for tens of thousands of people from all over North America during Semana Santa.
Ms. Bell in her book describes Mexico as "a barely discovered jewel with its complicated culture, rich history, and enormous natural beauty." In her book she has gone a long way to bringing this culture to life.
More examples of Charlotte Bell's work can be found at www.charlottebell.com. They are well worth a look.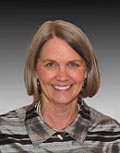 Charlotte Bell is a photographer, printmaker, author, and fiber artist. She began as a self employed textile artist in 1974, designing fabrics with an emphasis on printing augmented with hand painting and a variety of photographic techniques added to fabric. For 22 years her work was displayed throughout the United States. In 2000 she shifted her emphasis entirely to photography.
Much of her work is influenced by her travels in Mexico where she is a part time resident. In 1996 she began collecting photographs of the Easter events in San Miguel de Allende. This led to the creation of her book Tears from the Crown of Thorns which is a photographic essay on Easter in San Miguel.
She is now working on her second book; Rich Roots, Raízes Ricas, which is about life in small Mexican villages and how the United States policy is affecting their lives.
Her associations in Mexico have led her to various service projects, the most ongoing being the Rug Hook Project, where she assists rural women with marketing there handicrafts.
She also does portraits, weddings, and other special events.
She is married to Wolf Sittler, who designs and makes custom wood furniture. They divide their year between San Miguel de Allende and Austin, TX. She is the mother of two sons, three grandchildren and the godmother of two beautiful Mexican children.
Published or Updated on: June 14, 2004