Jul 2, 2006, 4:34 PM
Post #3 of 9 (3164 views)
Considerations regarding coloring concrete:

1. What products are available to you? Admix powders, dust on powders? Do you have access to US products such as concrete stains that are applied after it's poured?

2. How finicky are you about the color?

3. What color is the sand you'll be using?

4. Will your floors be done in all one "pour"?


In our Baja Sur location our choices were limited to a few basic, not very attractive colors of admix (integral) powders from the paint store.

I gave our mason a photo of the tan/buff color I was thinking about and he took it to the Comex store and asked the guy "how do I get this ?" He came back with bags of yellow, red oxido, and black powders and I panicked ! He tried several test batches and we came up with a nice color. I left it up to José to adjust the recipe for the floor of our 550 sq ft guest casita.

He laid a non-colored base layer first, followed by the colored concrete layer. The base layer ended up wetter than he had expected which required them to pour the colored batch at 11 pm so José was doing the color mixing of each wheelbarrow load by flashlight. He told my husband that he hardly slept that night because he was worried I wouldn't like the color. I was looking for a mottled, stone look so I think it's great.

Normally the local sand used for construction in our area is very dark grey/black volcanic found in the nearby riverbeds. Our mason had some arena blanca "imported" from La Paz to use for the floors because he feels there's less cracking of the concrete. The "Blanca" is derived from more of a granite base and is very light in color and I'm sure our color recipe would have been much different with the black sand.

Here's a photo of the floor about 4 days after the pour. I was told it takes up to 3 weeks to cure and it should be mostly the lighter tan color by then.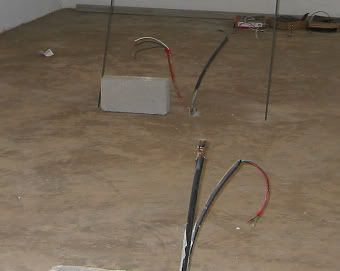 I should add that we are very lucky to have José who is an excellent mason, which as you mentioned Tony, would be a key factor in deciding whether to mess with coloring your concrete floor.