Dec 11, 2010, 3:08 PM
Post #1 of 1 (15124 views)
| | |
| --- | --- |
| A great fish lunch party and the unusual way it was cooked | Can't Post | Private Reply |
Sunday, 5 December 2010 Nery, Misael and I had a wonderful lunch at Alex's house. (My 3 English students)
3 kinds of fish, carne asada, and too many cookies. We ate on the patio which is beautiful.
The weather was just right for a great afternoon. The lunch story is here.

How the fish and carne asada were cooked is an interesting story -- Dr. Uribes' camp stove.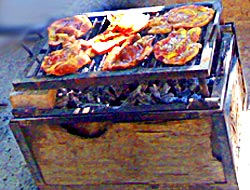 Rolly